(You're supposed to be hearing "All By Myself," by Eric Carmen in your head)
Oh hi! Remember me? Last week was GREAT then HELLACIOUS then GREAT then I came home, and tomorrow I leave again. I'm going to see how much of this I can get done before the hubby reminds me that we have three loads of laundry waiting to be folded or hung and put away.
Day One: Arrival and Disney's California Adventure
Oh hello again DCA, I remember you, and yes, I, too, am glad I could return so soon!
For those of you who aren't aware, my boss decided to send me to become a certified energy manager, which is a weeklong concentrated crash course followed by a 4-hour, 130-question grueling exam. I essentially had my choice of locations, and when I saw Anaheim.... Well DUH. So I tacked a day on the front and a day on the back ends of my business trip and took advantage of my location. I don't care how many times I do it, flying over the Rocky Mountains is always cool.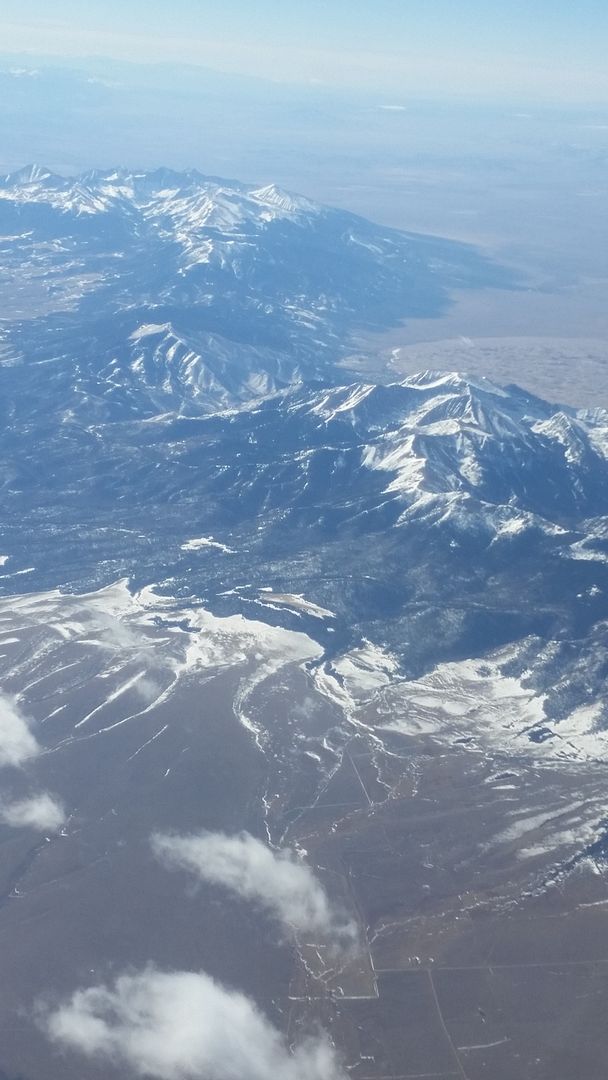 The training was being held at the Marriott Anaheim Suites hotel, which is really in Garden Grove (just off Harbor across from the Target), so that's where I stayed. My flight arrived just before noon, and after I had my suitcase in hand I was in a taxi, checking into the hotel, and in the park by 2! And I was STARVING! (They have their own private shuttle for $5 a day, which isn't horrible, but the load/unload zone is closer to Harbor than the ART buses are.)
In search of something to eat, I decided on ice cream. Then I went and grabbed a Fastpass for Soarin' over California, with a return time of 5:35. Finishing my ice cream, I made my way down to Tower of Terror, which of course was FUN. I got to explain the "Oh shoot" handles to the guy next to me (but it wasn't shoot, if you catch my drift). Then it was on to Toy Story Midway Mania. I guess I did all right. I have no idea if this is a good score or not.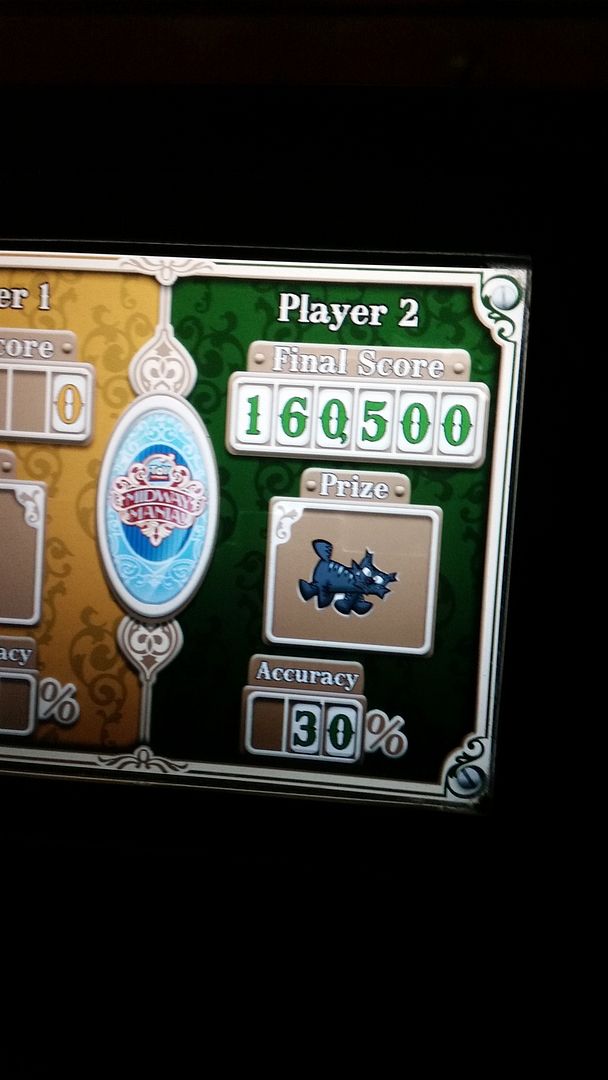 Next I rode California Screamin' and went to the Pacific Wharf Cafe for some dinner. I couldn't decide between the chicken salad with apples and walnuts or the Asian one. The Cast Member suggested the Asian salad, so I got that. It was good. (And this time I (sort of) remembered to take food pics!)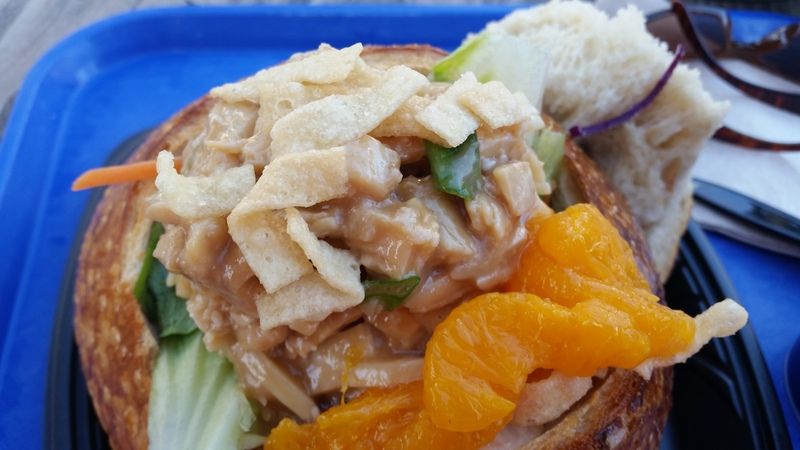 Then it was on to Monsters, Inc. (my favorite Pixar). After that, on my way back to Soarin' I stopped to watch the parade a bit: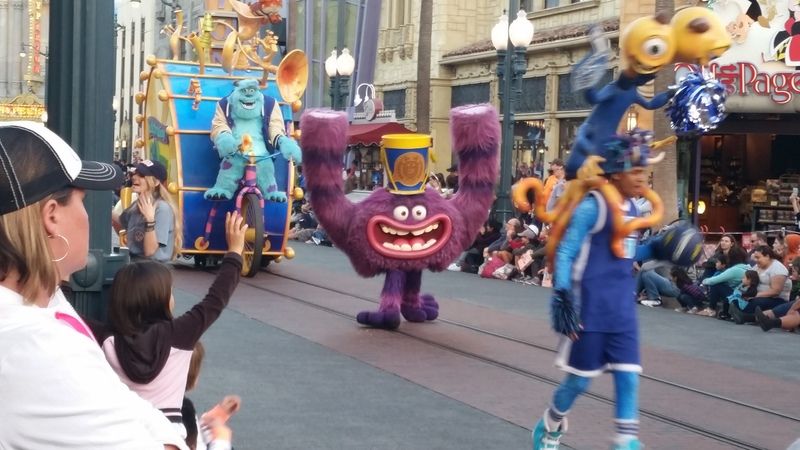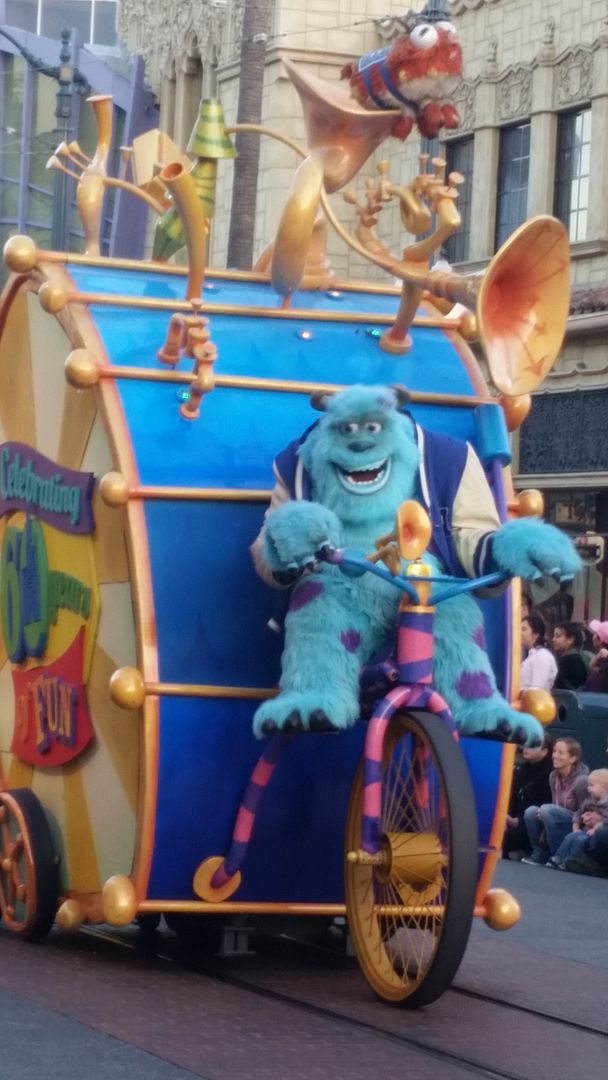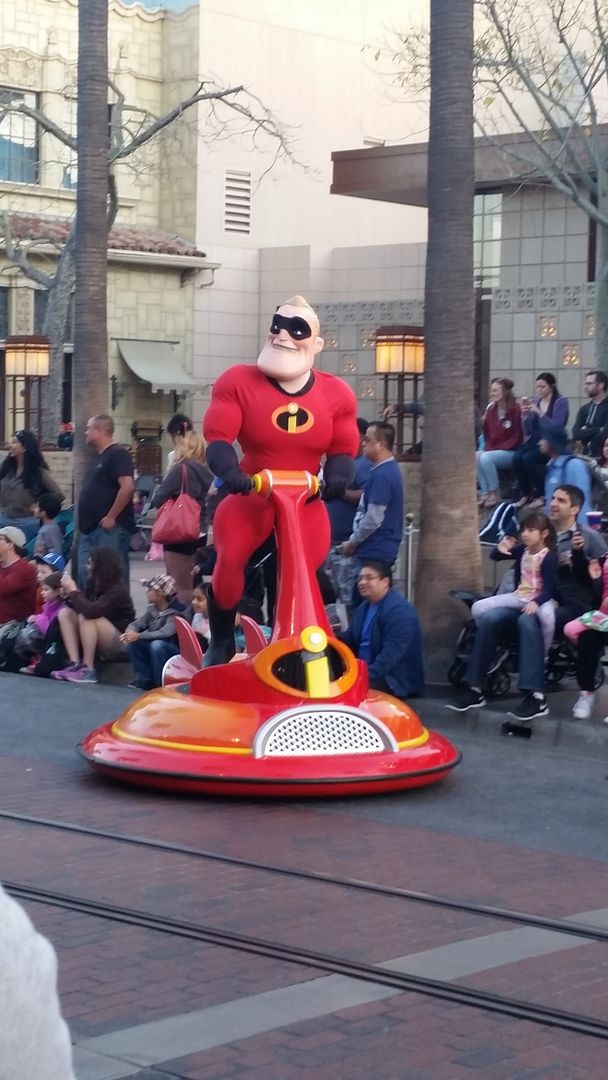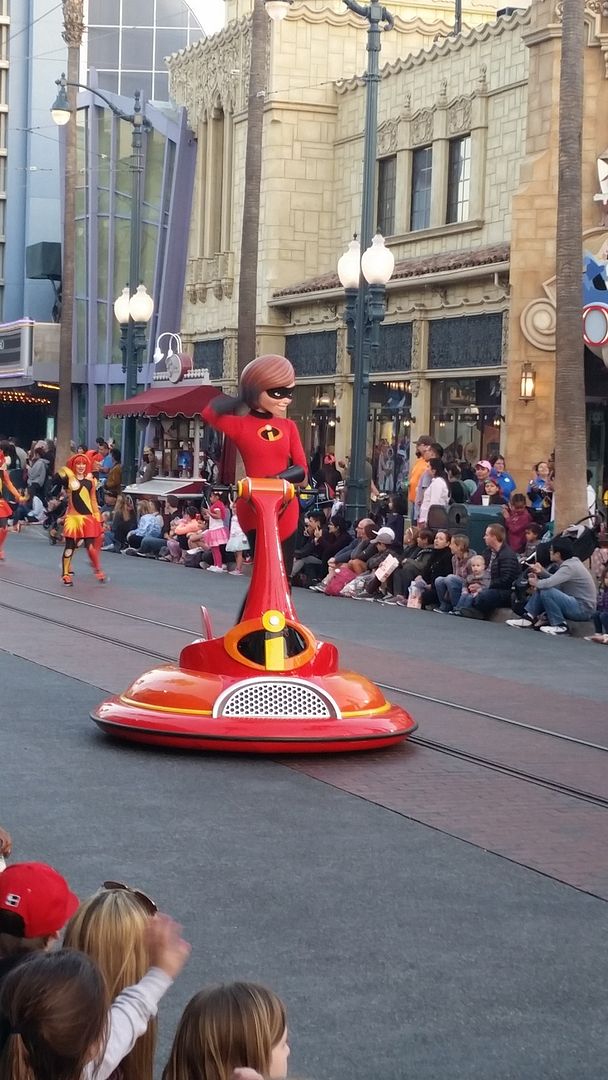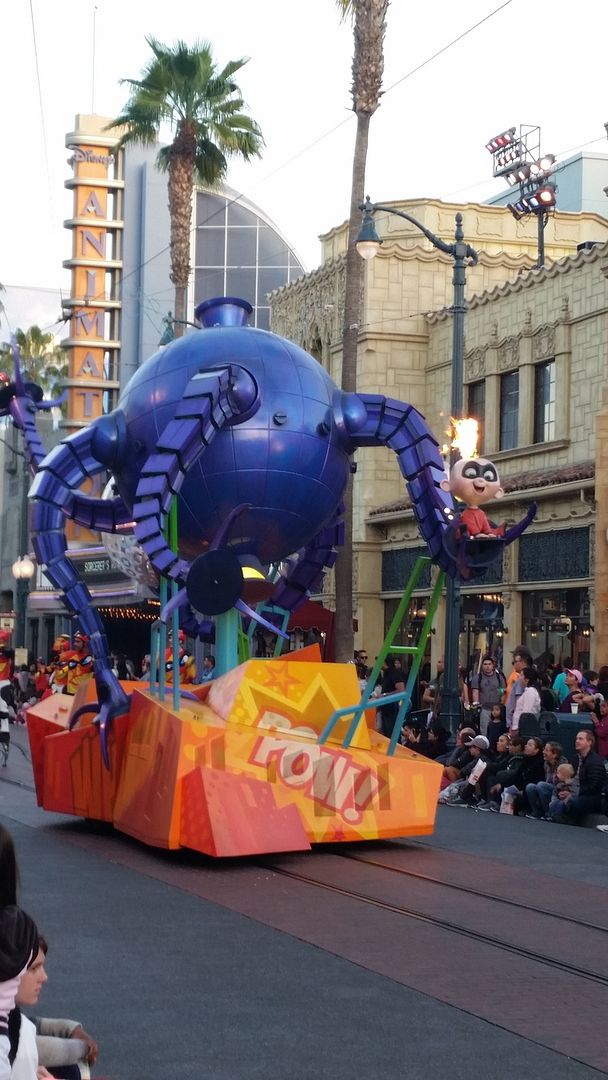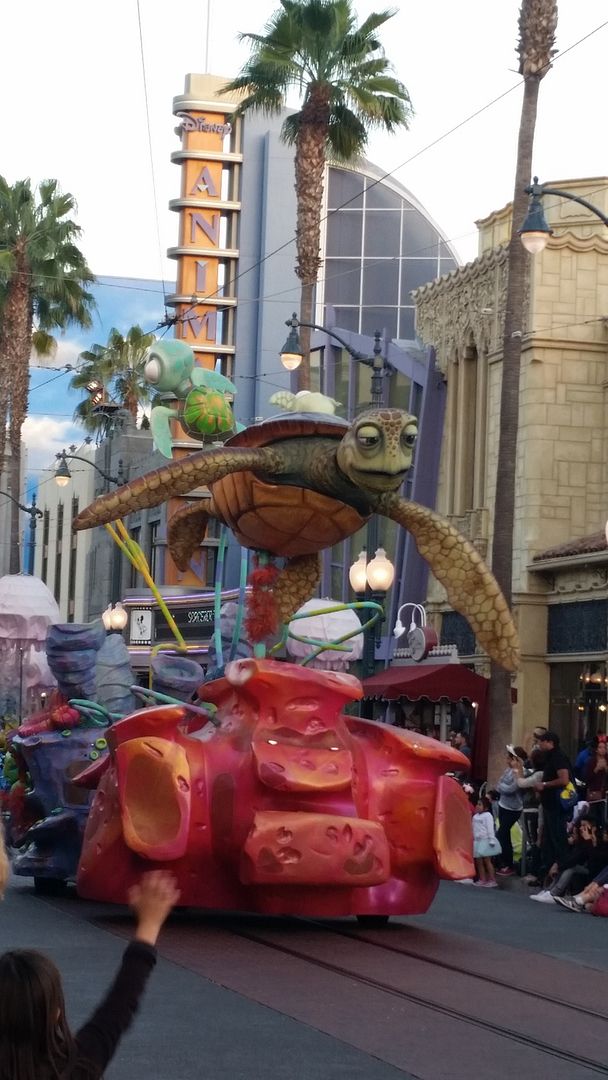 After that it was my FP at Soarin', and then a very slow meander back to Carsland to ride Radiator Springs Racers.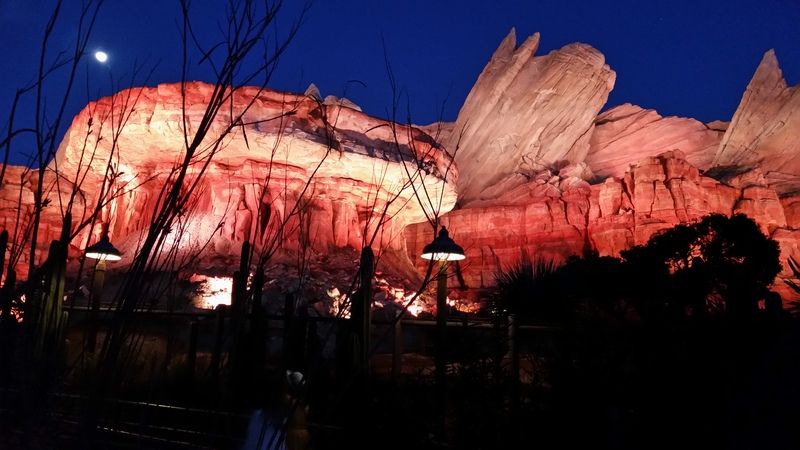 I walked through Bugs Land on the way out and loved this shot.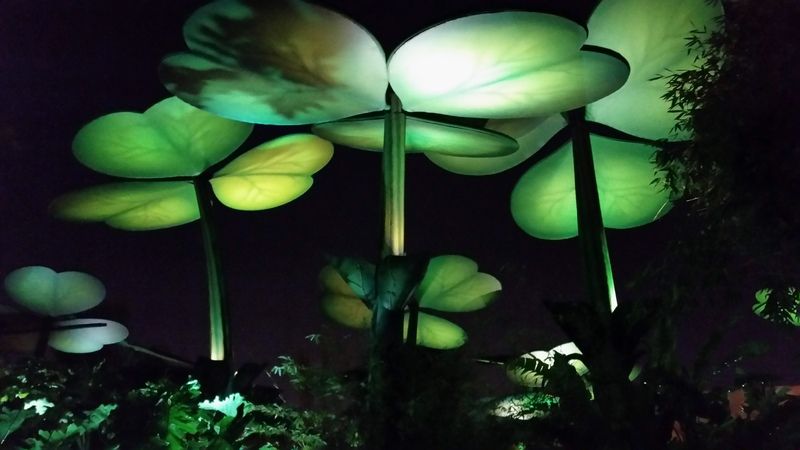 By then it was about 8 pm Pacific, which was 11 pm Eastern, and I had gotten up at 4:30 am Eastern for my flight. So, I took the hotel shuttle back to my hotel and CRASHED HARD. I think I MIGHT have been lying with my head on the pillow for 10 minutes before I fell asleep. Maximum 10 minutes.
Next day: Disneyland!